Misinformation and Disinformation: Detecting Fakes with the Eye and AI (Rubin, 2022)
Table of Contents
(see chapter links for more details)
How to order the book? The book can be ordered via Springer Publishers, or any major book retailer such as Barnes&Noble, Amazon (in US or Canada), Indigo/Chapters (in Canada), or Lehmanns (in Europe), both in print and electronically (by chapters or as a whole). If you have access to academic libraries, consider getting your library on board for e-access or a print copy to bypass any costs for the students in your institution.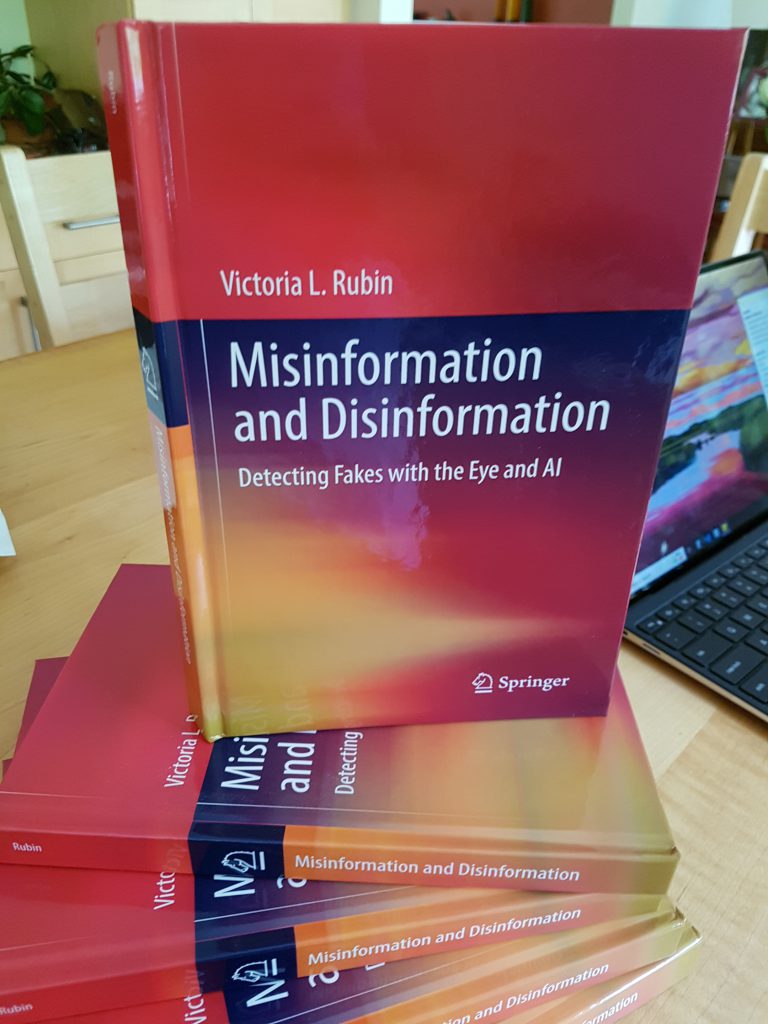 "Very excited to hold a copy of my newly published book in my hands. The high quality print paper, colour imagery, and nice binding are distinct hallmarks of the Springer Nature Publishers. "

– Vicki R., August 2022
Suggested citation: Rubin, V. L. (2022). Misinformation and Disinformation: Detecting Fakes with the Eye and AI. Springer Nature, Switzerland. https://doi.org/10.1007/978-3-030-95656-1
---
What's the book about? Who is it for? This free Introduction chapter will give you a sense of the book structure, contributions, intended audience, and driving forces behind writing this book.
See the Springer Publisher's information about the book: