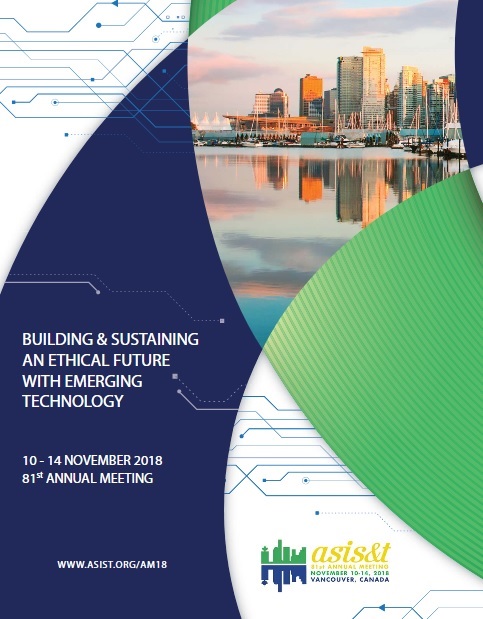 The Association for Information Science and Technology (ASIS&T) Annual Meeting is held in Vancouver, Canada this year with a theme of "Building & Sustaining An Ethical Future With Emerging Technology". See ASIS&T2018 Brochure for more details.
Our lab team members will be giving 4 presentations. The 2 oral presentations are on various topics in students' thesis-related research interests:
Yimin Chen will present "Being a Butt While on the Internet": Perceptions of What Is and Isn't Internet Trolling in the SOCIAL MEDIA IN CONTEXT session.
Tolu Ausbiaro will be presenting his work (supervised by Dr. Isola Ajiferuke) "A Word-Level Language Identification Strategy for Resource-Scarce Language" in the LANGUAGE AND INFORMATION SCIENCE session (The session is moderated by Dr. Victoria Rubin).
The 2 posters will be delivered in the Visual Presentation session:
Toluwase Asubiaro and Victoria Rubin (2018) "Comparing Features of Fabricated and Legitimate Political News in Digital Environments (2016-2017)" (click here for this short paper full text PDF or view the ASIS&T2018 Proceedings)
Abstract
With the problem of 'fake news' in the digital media, there are efforts at creation of awareness, automation of 'fake news' detection and news literacy. This research is descriptive as it pulls evidence from the content of online fabricated news for the features that distinguish fabrications from the legitimate political news around the time of the U.S. Presidential Elections (276 articles in total, from November 2016 – June 2017). Certain stylistic and psycho-linguistic features of fabrications may be apparent to the news readers: fewer words and paragraphs but longer paragraphs, more slangs, swear words and affective words in the stories. Such features could be used for educational information literacy campaigns for spotting so-called 'fake news'. Other informative features may require specialized analytical tools (or further training) to notice the presence of more words, punctuation marks, demonstratives and emotiveness in fabrications but fewer verifiable facts (or named entities) in their headlines.
Nicole Delellis and Victoria Rubin (2018) "Educators' Perceptions of Information Literacy and Skills Required to Spot 'Fake News' " (click here for this short paper full text PDF or view the ASIS&T2018 Proceedings)
Abstract
This research examines the concept of 'fake news' in the context of information literacy (IL) in a post-secondary educational setting. Educators' perceptions shape both IL curricula and classroom discussions with students. We conducted 18 interviews with members of 3 integral groups implementing IL education (8 professors, 6 librarians, 4 department chairs). Interviews explored participants' perceptions of: IL education, perceived skills associated with IL, skills required to spot 'fake news', and gaged our participants' willingness to incorporate segments dedicated to detecting 'fake news' in IL curriculum. Our qualitative findings identify a substantial overlap that exists between skills associated with IL and 'fake news' detection (e.g., close-reading, critical disposition, bias awareness). Professors and academic administrators also appeared to underappreciate the role of librarians as IL educators. We advocate improving communication among integral facilitators of IL education. More research is needed to assess effectiveness of IL education as an 'inoculation' against 'fake news.' INTRODUCTION What does it mean to be critical of information? In 1989, the American Library Association (ALA) defined information literacy (IL) as a set of skills that enables individuals "to find, evaluate, and use information effectively to solve a particular problem or make a decision." However, as conceptualization of information shifts, and the technologies people use to communicate change, so does the teaching of IL. How we obtain information, and specifically news has been altered by the existence of social media platforms. Blending of traditional news outlets and user generated content procured through social media has influenced how individuals inform themselves (Chen, Conroy and Rubin, 2015). "Most of what we think of as news is now delivered to and received by us in video clips and sound bites, often forwarded without filter or review through social networks from one screen to another in a matter of minutes" (Frederiksen, 2017). Through social media platforms individuals are presented with a decontextualized 'news' sources, often stripped of details about information production. Reliance on social media as a news vector has disrupted traditional methods of information acquisition. Individuals who were once reliant on librarians to provided epistemological protected procured information are now "using the internet to acquire information and making important decisions with it […] acquiring knowledge from a media where anyone can write anything they want, true or false, anonymously and without consequences" (Walsh, 2010).
Dr. Rubin will serve as a moderator for the LANGUAGE AND INFORMATION SCIENCE session on Tuesday, November 13th 1:30 PM – 3:00 PM.
Please feel free to contact any of us with further questions! See team member profiles here as well.