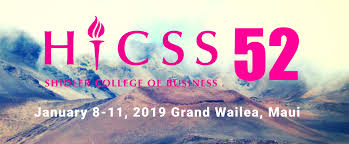 The Annual
Hawaii International Conference on System Sciences (HICSS-52)
will take place in January 2019 in
Maui, Hawaii.
HICSS prides itself as "the longest standing scientific conference in the information systems and technology field." According to
the Wikipedia page about HICSS, it is "the top IS conference in terms of citations as recorded by Google Scholar
. The acceptance rate was less than 50% in 2015″.
This year our LiT.RL team was honored to be accepted with one of our works around the issues of deceptive information online for an oral presentation in one of the HICSS mini-tracks. The work that will be presented is as follows:
Sarah Cornwell and Victoria Rubin (2019) "What Am I Reading?: Article-style Native Advertisements in Canadian Newspapers," HICSS2019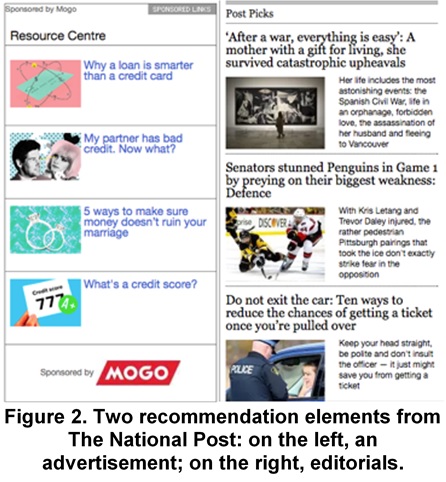 Here is a comparative figure demonstrating the type of data studied (as a sample from the full paper):
Abstract
Native ads are ubiquitous in the North American digital news context. Their form, content and presentational style are practically indistinguishable from regular news editorials, and thus are often mistaken for informative content by newsreaders. This advertising practice is deceptive, in that it exploits loopholes in human digital literacy. Despite this, it is flourishing as a lucrative digital news advertising format.
This paper documents and compares the 2018 Canadian news editorial writing and advertising practices in an effort to highlight their similarities and differences for potential automatic detection and categorization. We collected 10 native ads and 10 editorial pieces from 4 Canadian newspapers. The 80 analyzed articles consisted of 40 native ads content-matched to editorials in the same newspaper. The individually-matched pairs and overall practices in the 2 groups were content-analyzed and compared. Native ads did not differ much from editorial articles in content but were likely to be surrounded by different types of advertising. In addition, advertisement labelling practices were inconsistent across national papers. We call for increased efforts in regulation and automatic detection of convert advertising by a more nuanced categorization and their more explicit labeling in the digital news.
The full manuscript is being finalized for camera-ready version of the HICSS2019 Proceedings.