A new book on 'fake news' is out and we contributed a chapter to it!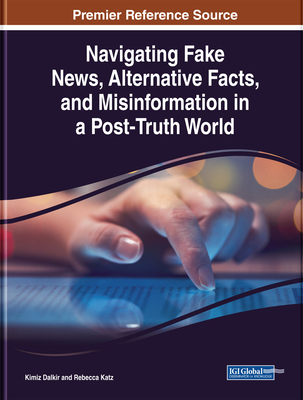 "Navigating Fake News, Alternative Facts, and Misinformation in a Post-Truth World", edited by Kimiz Dalkir & Rebecca Katz (McGill University, Canada), is a collection of innovative research on human and automated methods to deter the spread of misinformation online, such as legal or policy changes, information literacy workshops, and algorithms that can detect fake news dissemination patterns in social media. While highlighting topics including source credibility, share culture, and media literacy, this book is ideally designed for social media managers, technology and software developers, IT specialists, educators, columnists, writers, editors, journalists, broadcasters, newscasters, researchers, policymakers, and students.
Book Description: In the current day and age, objective facts have less influence on opinions and decisions than personal emotions and beliefs. Many individuals rely on their social networks to gather information thanks to social media's ability to share information rapidly and over a much greater geographic range. However, this creates an overall false balance as people tend to seek out information that is compatible with their existing views and values. They deliberately seek out "facts" and data that specifically support their conclusions and classify any information that contradicts their beliefs as "false news."
Chapter 4. 'Fake News' in the Context of Information Literacy: A Canadian Case Study
Abstract: This chapter describes a study that interviewed 18 participants (8 professors, 6 librarians and 4 department chairs) about their perceptions of 'fake news' in the context of their educational roles in information literacy (IL) within a large Canadian university. Qualitative analysis of the interviews reveals a substantial overlap in these educators' perceptions of skills associated with IL and 'fake news' detection. Librarians' IL role seems to be under-valued. Better communication among integral IL educator groups is recommended. Most study participants emphasized the need for incorporating segments dedicated to detecting 'fake news' in IL curricula. Pro-active IL campaigns to prevent, detect, and deter the spread of various 'fakes' in digital media and specialized mis-/disinformation awareness courses are among best practices that support critical thinking and information evaluation within the societal context. Two other interventions, complementary to IL as per Rubin's Disinformation and Misinformation Triangle, are suggested – detection automation technology and media regulation.
Other topics in the Book include, but are not limited to:
Digital Environments
Information Overload
Information Verification
Knowledge Management
Media Literacy
Online Deception
Perceived Bias
Share Culture
Social Media
Source Credibility